Nemo Domsub
Biography
Under my real name, I have of course written more socially acceptable works of fiction, however, this is erotic fiction and even though I cannot deny that I enjoy writing it, I would never use my real name. The name I chose to write under, Nemo Domsub, means that I regard myself as nobody and that I am neither dominant nor submissive, but instead I make it my choice. To write this book, I, like many writers do, draw upon my own experiences and knowledge. The characters presented this book may or may not have been influenced by people in my life or they may be merely fragments of my shattered personality.
Books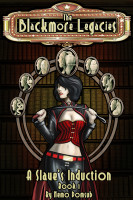 A Slave's Induction, Book 1: The Blackmore Legacies
by

Nemo Domsub
Alan didn't know it at the time, but this seductive woman would fundamentally change his life forever. She would totally dominate him and through her tutelage, he would be exposed to dark pleasures he never dreamed possible. However, Alan would also be pulled deeper and deeper into a war between rival societies, he didn't start this war, but he would, in time, intend to finish it.
Nemo Domsub's tag cloud