Jack L Marsch
Biography
Jack L Marsch was born in May 1975 in Budapest. He went through the school system with the 'talented but lazy' epithet that was the result of boredom and an overactive imagination. This imagination as well as an innate curiosity towards the world led him to begin the search for a muse and a way to express himself.

Ever since he can remember Marsch has been driven by the desire to create, stories and scenes jostling for attention and release; and it was the visual word of graphic art that he first turned his attention. When he realized that the static nature of lines and color on paper expressed only fleeting moments of tension that did not lend themselves to the crafting of more detailed scenarios and characters, he decided to turn his attentions to creative writing as an outlet for the ideas that waxed and waned within him.

It was in his early twenties that he discovered a latent bent towards writing and the fantasy genre, an urge that led him to complete his first novel, yet life led him towards a more grounded path through his studies at the Budapest Collage of Communication and Business and later a successful and satisfying career.

The niggling feeling that there was something more, something waiting to be given reign, never fully disappeared however, and in 2011 the themes and plots for 'Poles of Enforcement' began to take shape. After many years of waiting, false starts, embryonic ideas and frustrated pondering, the feeling of rightness and fulfillment that went with Marsch's reunion with writing was confirmation in itself that he had found his true voice.

As he is wont to say, future plans are a wonderful thing, but life often proves to be stronger and, as time rolls inevitably on, he finds himself drawn along with it and out into the unknown.
Series
Books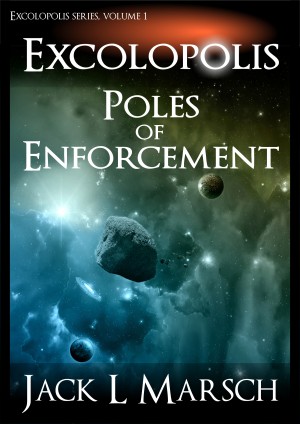 Excolopolis: Poles of Enforcement
by

Jack L Marsch
There's always been something unusual about him, but the alienness is just the surface. He practically appears out of nowhere and is to head into dangerous waters when he presents the antigravity device for the world to see. The Dark Core Gravity sphere is based on an unnatural technology, which originates from a place that no one can ever imagine.
Jack L Marsch's tag cloud