Jack Prince
Biography
JACK PRINCE is a retired educator with a wide variety of experience, both professionally and avocationally. He was awarded a Bachelor of Arts in Fine Arts and Physical Education and a Master of Arts in Educational Psychology. He taught, coached, and administered at all levels of education. His employment includes a local school district in Colorado, six institutions of higher learning, and two state departments of education. He also served three years as an account executive in five states for a major broadcasting firm and two years as director of the Wyoming School for the Deaf. He retired from the Wyoming Department of Education in 1995. He and his wife reside in Cheyenne, Wyoming.
Books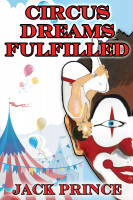 Circus Dreams Fulfilled
by

Jack Prince
This story about a boy's dream to become a circus star is timely. A boy can't even be a circus star anymore. The Ringling Brothers Circus has folded its tents, but the lure of the circus endures. Only the circus blends stage paint and talking giraffes, blood-sweating hippos and athleticism, grifters and artists.
Jack Prince's tag cloud