Jackson Sever
Biography
Jackson Sever is a Norwegian author, editor, and attorney, whose main interest lies in European and American subjects who have been wrongfully imprisoned, some because of their political beliefs, and some because of the political beliefs of those who imprisoned them.

This book is the author's first published work in the United States, and is the first in the author's 'A Biography of a Political Target' series of American subjects. Announcements will be made of the next subject in the series.
Books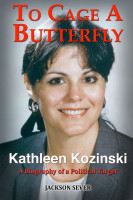 To Cage A Butterfly
by

Jackson Sever
To Cage A Butterfly, by Jackson Sever, is a biography of a Political Target. It is about Kathleen Kozinski's life, how she helped Jack Nicklaus and Burt Reynolds and how she became a target. It is about a life of extraordinary love, of personal and public service, of betrayal of the worst kind, of faith that saw her through the horror of prison, and how she became free to dream and begin again.