Jack Walker
Biography
Jack Walker was born in a gritstone house on the edge of the Yorkshire moors in 1939. He is a graduate of Exeter University and the Open University (where he obtained a Master of Arts degree in Education in 1992).
After a career in technology he decided that people were more interesting than machines and retrained as a teacher. He taught in secondary and higher education.
He now lives on the edge of Dartmoor where he investigate the remains left by people of the Neolithic and Bronze Ages. From this he has a hardback book 'Dartmoor Sun,published by Halsgrove in 2005,' also published are articles in Dartmoor Magazine. In order to gather information and photographs, he visited remote prehistoric sites at sunrise and sunset at the solstices and the equinox. He may be the first to view these remote prehistoric sites at these key times for thousands of years, the findings/experience was remarkable and amazing. 'Stonehenge' is not the only British site aligned with the sun and moon.
'Pacific Frypan' is the result of several years research into the clash of three cultures and what may happen when Earth's tectonic plates release their gigantic pressures. It's not for those of a nervous nature.
Books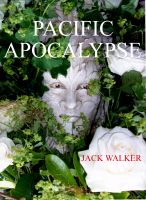 Pacific Apocalypse
by

Jack Walker
(4.00 from 1 review)
Action, adventure and wild love sizzle under the sun as a cataclysm looms over the Pacific. From Australia to Indonesia, forces gather, threatening three cultures. Volcanoes release the pressure as tsunamis rage, but there is a controller and they have an agenda.
Jack Walker's tag cloud