Jagdish Goswami
Biography
Dr. Jagdish Goswami, or "Doctor G," as his colleagues know him, is a family physician, originally from India. He holds a Master of Public Health from the University of California at Berkeley.

Goswami was serving as a physician at St. Joseph's Mercy Hospital in Guyana when the British battleship H.M.S. Fearless docked in Guyana for commando jungle training in July of 1994. His work as the hospital's Liaison Medical Officer to the ship earned him a commendation from the Lieutenant of the Royal Marines. Also while at St. Joseph's, Goswami worked as a Hospital Liaison Medical Officer for the Pan American Health Organization's Polio Eradication Program. He also performed work in the Amazonian region of Rupununi in southern Guyana. Fluent in English, Farsi, Hindi, Gujarati, Urdu, and Marathi, he was uniquely qualified to appreciate the linguistic richness of Guyana and Suriname.

A historical tale told him by the local residents during the time he spent in Guyana provided him with the basic storyline for Freedom's Edge. Much of the color, complexity, and hair-raising adventure of inland travel in that area came from his own experiences. The sunken German transport (named Klein Seyditz in the book) is still visible in the harbor at Paramaribo.

Goswami's background in exotic places includes collaboration with fellow medical professionals in Yemen, Guyana, and the Sultanate of Oman. His travels have taken him to the Commonwealth of Independent States, Tajikistan, Kyrgyzstan, Uzbekistan, Kazakhstan, Turkmenistan, the United Kingdom, Germany, Israel, Canada, Guyana, Suriname, and the United Arab Emirates. He has done organizational emergency and medical needs planning for large public events and produced training materials for many audiences. In his first field assignment in his home country, he was stationed in a rural area where he had experience taking care of patients with tiger bites!

Now a United States citizen, Goswami has served as executive director for the Toiyabe Indian Health Project in Bishop, California; assistant professor at Samuel Merritt University; and instructor of both clinical medicine at the Touro University College of Osteopathic Medicine and Western medicine at the Acupuncture & Integrative Medicine College in Berkeley. He has worked among the indigenous Ameri-Indians in the Amazon on a social/economic/health project called "Hopeful Steps," a Guyana-based nonprofit organization, and created educational materials that were field tested and later adopted by the Guyanese Ministry of Health.

Currently, Goswami resides in California with his wife.
Books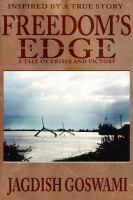 Freedom's Edge
by

Jagdish Goswami
Price:
$5.99 USD.
Words: 107,260.
Language: English.
Published: November 16, 2015
. Categories:
Fiction
»
Historical
»
General
Sarah Lipinski, a German Jew widowed by the Nazis, finds herself a refugee with her only remaining family, the Roseweigs, as they make their terrifying escape to Suriname as stowaways aboard a cargo ship. Gunter Kramer is a reluctant Nazi soldier with a miserable assignment—a manhunt that's leading him straight to the Roseweigs. Now the refugees must devise a plan to regain their freedom for good.
Jagdish Goswami's tag cloud