Jagdish Mehta
Biography
jagdish mehta was born in Gujranwala district ,now Pakistan,was educated at DAV school and DAV collage, Lahore. after M.A. Eco. he took a professional degree in library science from Punjab university.he started his career as an English teacher and took to librarianship later.he retired as director of Delhi public library-a prestigious project of government of India and UNESCO.he was an active member commonwealth library association, London and Indian library association.
LITERARY CAREER:- he started writing at the age of 14 but all his writings till 1947 were left in Pakistan, when he had to migrate at the partition of country. having migrated to India he continued writing casually. the major part of his writings were taken up after his retirement in December 1980.he writes poetry, short stories etc.in English , Hindi, Urdu and Punjabi.
he is a founder member and ex-officer bearer of
1-AWIC(association of writers and illustrators for children)
2-academy of Indo-Asian literature, new Delhi
both these organisation have honored him for his life time achievements for his contribution to children's and adult literature. his books for children have won individual prizes as well.
some of his poems have been published in journals from time to time.the volume in hand is the first one to come out as a collection , with more to follow.
Books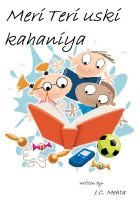 MERI TERI USKI KAHANIYAN
by

Jagdish Mehta
Teri Meri Uski Kahaniyan (Yours Mine & His Stories),as the name indicates these are the stories of common men & women like you and me. Not only this ,they actually happened at the places mentioned in them .Thus they are not only true to life but true life. The author's contribution is only his art of narration These stories are short ,crisp & humorous. Each story takes just 4-5 min to read.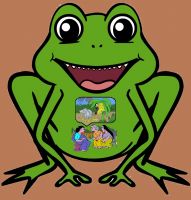 pappu ki kahaniyan
by

Jagdish Mehta
Pappu ki kahaniya(pappu's stories):- At a meeting held at children book trust-India once they expressed a concern that children's interest in hindi poetry was on the wane and the solution emerged that if short poems in easy language in story form ,based on a style happening was written, the situation can be resolved, the author picked up this challenge and produced this collection.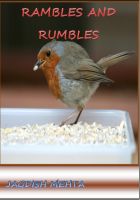 RAMBLES AND RUMBLES
by

Jagdish Mehta
We humans have been endowed with an active mind, capricious as a monkey. You can keep it busy in work, but for how long? The body tires and you need rest.You relax in an easy chair or lie down but can you hold your mind still?I therefore let my mind ramble. It rambles around,into time- past, present and future.And I present The Rambles and Rumbles of a vagrant mind to my fraternity - Jagdish Mehta
Jagdish Mehta's tag cloud