Joanna Arielle Haimowitz
Biography
Joanna is a quiet, reflective wife and mother of one spunky boy who enjoys nothing more than dreaming, writing, and making people smile through her work. As do many writers, she loves to just be quiet and observe all that is happening around her. Writing is her outlet.

Joanna's greatest fantasy would be having the power to be invisible. That way she could grasp all that is in the environment without it responding to her presence. To her, that's the most organic experience one can have. It would be a low impact existence.
Books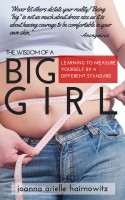 The Wisdom of a Big Girl: Learning to Measure Yourself by a Different Standard
by

Joanna Arielle Haimowitz
All women have been subjected to the pervasive idea that we have to look a certain way, have young, beautiful skin, show no blemishes, and be thin and attractive. And if we do not fit into this stereotype of what society thinks is beautiful, then we are shunned, teased, degraded, or even ostracized. It has been proven that people who are considered more attractive get better jobs, have more...
Joanna Arielle Haimowitz's tag cloud