Roni Eastman
Biography
I have spent most of my life living in rural Oklahoma. I was born in Tulsa, and while I prefer the interesting thing a small city has to offer, I hate the traffic. I grew up in a close multi-generational family. My granny was the Matriarch for the family for most of my life. We did not all live in the same house, but we lived near each other. She kept tabs on the entire family, and settled most problems. Nobody questioned granny's authority, whether you were grown, married, had your own kids, granny was still in charge. When I was younger, my mother was an English professor at a local college. She is probably the most responsible for my love of writing. My father is an evangelistic minister, and in my case, everything they say about the preacher's daughter is probably true. Most of my life I have been told I should write a book. The things that have happened in my life, just don't happen to other people. I always swore if I wrote it, nobody would believe it was a true story. I have been married twice, and those two alone would make a series. I gave birth twice, a son and a daughter, and along the way I inherited a whole mess of other kids. Many times I had as many as 6 kids living with me. (An entire other series worth of books.) I have always been fascinated by people, and what motivates them to make some of the choices that they do. I find it interesting how individual perspectives of the same events can be very different. It has often amazed me, how a single life event can dramatically change the course of a person's life. None of my books are based on true stories, but I definitely drew inspiration for some of the characters personalities from some of my friends and family.
Where to find Roni Eastman online
Books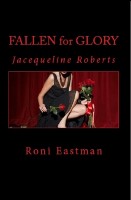 Fallen for Glory
by

Roni Eastman
Jacequeline has lost many people she loved. She meets a man that she thinks will be the answer to all her problems. Only he isn't. When she discovers the sins he has committed against her and her family, she does what any woman would do. With the help of people that has impacted her life along the way, she sets out to destroy him.
Roni Eastman's tag cloud