Jake Greyson
Biography
Jake Greyson is an avid reader who splits his time between the mountains of North Carolina and the Oregon Coast. He brings varied experiences and careers to his writing. Jake has traveled extensively through Great Britain, Europe, Canada, Alaska and the remainder of the United States by train, bus, bicycle, motorcycle and on foot. His careers include teacher, firefighter, outdoor wilderness guide and corporate vice president. He has recently unleashed two new characters upon the reading world with his Ferguson Boone and Samantha Lucas Detective Series.
Books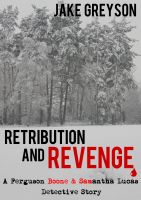 Retribution and Revenge (Boone and Lucas Detective Series #1)
by

Jake Greyson
A short story of approximately 14,330 words. In this first of the Ferguson Boone and Samantha Lucas Detective Series, Private Investigator Boone and Detective Sam Lucas team up to battle the murderous Trotter family. Full of hate, the Trotters will do anything to bring down the law and anyone who enforces it, using kidnapping and murder.
Jake Greyson's tag cloud