Jake Hollingsworth
Biography
A long time ago in a galaxy far, far away Jake was a bank teller, restaurant manager, and barista. When he finally got his head on straight, Jake married his best friend and two weeks later took a 15 month honeymoon to Asia. He now lives, teaches, writes, and dreams in Seoul with his wife, Jessica, who is a photographer.
Where to find Jake Hollingsworth online
Books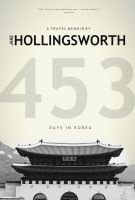 453 Days In Korea
by

Jake Hollingsworth
Bright and early on a humid August morning, Jake Hollingsworth boarded an airplane bound for the other side of the world. With his wife of 14 days, he was headed for a land called South Korea. They knew next to nothing about where they were going and what they were getting themselves into. But who cares? They were young. They were carefree. And, well...you'll see.
Jake Hollingsworth's tag cloud