Jake Williams, Jr
Agent info
Dr. Jake Williams Jr. was born and raised in Seale, AL. He graduated high school in 1975, and joined the military in 1976 where he served 22 years in the U.S. Army before retiring in 1998. Dr. Williams received his called into the ministry in 1989 at Jesus World Outreach Center in Heilbron, Germany (which is now located in Heidelberg, Germany). In September 1997, he founded the Fayetteville, NC branch of Jesus World Outreach Center, Inc. (JWOC) under the Spirit-filled leadership of Apostles Elisha and Phyllis Lawson. He earned an Associate degree in General Education from Fayetteville Technical Community College, a Bachelor in Bible, a Master in Theology and a Doctorate in Christian Education from Great Commission Bible College and Seminary. He is an accomplished commercial pilot, founder and overseer of the JWOC Angel Flight Program where he gives back to the community by flying disabled veterans to various locations free of charge. He is also the founder and overseer of a men's ministry called Men of Integrity where he teaches men to walk in their integrity enabling them to take back their rightful places as men, husbands, and fathers in the home. He has a sincere heart for helping people and making them disciples of Jesus Christ. Dr. Williams is a radical mighty man of God who travels with his wife nationally and internationally teaching the uncompromising Word of God.
Where to find Jake Williams, Jr online
Books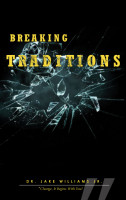 Breaking Traditions
by

Jake Williams, Jr
Mark 7:9, says, "And he [Jesus] said unto them, Full well ye reject the commandment of God, that ye may keep your own tradition." Jesus was letting the Pharisees, certain of the scribes and the people know that not all traditions are good, especially when they cause you to not keep the commandments of God.
Jake Williams, Jr's tag cloud