Jakub Bozydar Wisniewski
Biography
Jakub Bożydar Wiśniewski is a libertarian theorist and a researcher in the tradition of the Austrian School of Economics. He has been a fellow at the Institute for Humane Studies and at the Ludwig von Mises Institute. He has published peer-reviewed articles in philosophy, economics, and political economy in, among others, "Independent Review", "Quarterly Journal of Austrian Economics", "New Perspectives on Political Economy", "Journal of Prices & Markets", "Libertarian Papers", and "Reason Papers".
Where to find Jakub Bozydar Wisniewski online
Books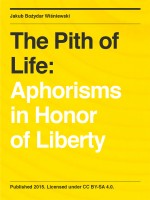 The Pith of Life: Aphorisms in Honor of Liberty
by

Jakub Bozydar Wisniewski
This book contains a collection of aphorisms grouped into six sets of topics, all related to the overarching topic of liberty and useful in highlighting its various facets. Its central idea is the conviction that the message of liberty – the pith of our life – is particularly well suited to be conveyed through aphorisms, a literary form that, at its best, is as pithy as it is lively.
Jakub Bozydar Wisniewski's tag cloud