James Reasoner
Publisher info
A lifelong Texan, James Reasoner has been a professional writer for more than thirty years. In that time, he has authored several hundred novels and short stories in numerous genres. James is best known for his Westerns, historical novels, and war novels, he is also the author of two mystery novels that have achieved cult classic status, TEXAS WIND and DUST DEVILS. Writing under his own name and various pseudonyms, his novels have garnered praise from Publishers Weekly, Booklist, and the Los Angeles Times, as well as appearing on the New York Times and USA Today bestseller lists.
Where to find James Reasoner online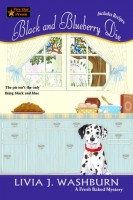 Black and Blueberry Die
by

Livia J. Washburn
In the latest from the nationally bestselling author of The Candy Cane Cupcake Killer, Phyllis Newsom returns with a blackberry and blueberry pie recipe that's to die for… It's late summer in Weatherford, Texas and Mike Newsom's childhood friend is sweltering in prison for a crime he claims he didn't commit, murdering his wife. Mike asks his mom to help his friend and find what actually happened.
James Reasoner's tag cloud