James Sherman
Biography
Born in Kalamazoo, Michigan July 14th 1939 my family was even then in a mountain of difficulty. My mother had been divorced because of an alcoholic relationship with my real father and he was on the road so to speak.
Struggling with life I was placed in a foster farm location with the placement more for the need than for the reality of what I knew. Dad and Mom Peas where the foster parents, having two children of their own and they were responsible for getting the job done.
Moving back into a reestablished relationship with my mother and her second husband, I graduated from high school by force so to speak when I left home at the age of 17 and joined the United States Air Force. During my tour and time met my wife in September of 1959 and was married. Thought out the time factor I stayed in the Air Force for 23 and ½ years and retired.
While looking for something to do and staying busy I re-entered the Civil Service Work Force and became another around the busy network of time until I reached 22 years of time. During this time of my life I was ordained with the Independent Assembly of God church.
Books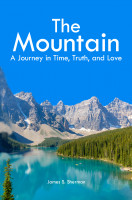 The Mountain: A Journey in Time, Truth, and Love
by

James Sherman
This period of time called life, whether experienced with or without truth, is difficult. Dealing with time can be taxing, especially in the absence of truth. Dealing with others, while living in a fog, is even more stressful. James S. Sherman awoke with the mind of an 8 year old living in the body of a 70 year old. Encephalitis, simply put, is inflammation of the brain.
James Sherman's tag cloud