James King
Biography
James King was born in Bristol, England 1942 and educated by Christian Brothers in an austere and unforgiving Roman Catholic environment. World War Two saw James' father serving with the Royal Air Force, in Gibraltar and the Azores. Grandfather acted as surrogate father during the War and James has no recollection of his Father before the age of three. He was not a brilliant scholar, primarily because he did not enjoy his schooldays, but James did learn and always did enough to get by. The family were of modest means and Father encouraged James to work in insurance as this was a stable job; something to aspire to as risks were only for fighter pilots! His ambitions unfulfilled James later began a career in Financial Services which lasted 25 years; then in 1995 at the age of fifty three he emigrated to South Africa, having been a regular visitor since he divorced in 1988. It was then he first tasted writing; producing serious business documents, preparing detailed submissions and surveys for the provincial gaming boards. He travelled all over South Africa setting up survey teams in six provinces, visiting townships and rural areas, gaining valuable insight into the culture and lives of the people. He was in the Country when Nelson Mandela was freed from Robben Island, apartheid was dismantled and the 'Truth and Reconciliation Committee' was chaired by Archbishop Desmond Tutu. In the early 1990's James was a partner in a venture to bring international stars to South Africa for the first time. Joining forces with the late Don Arden from England, commitments were obtained from Stevie Wonder, Tina Turner, ELO and UB40 to tour; but the resources needed to stage these events proved too much of a risk and the project was aborted. Arden was best known for overseeing the careers of rock groups like Small Faces, ELO and Black Sabbath (He was Ozzy Osbourne's wife Sharon's father). Notorious for his aggressive business tactics he was called "Mr. Big", "The English Godfather" and "The Al Capone of Pop". In 2008 James moved to Thailand, in semi-retirement where he has built and sold one house, renovated another, created a tropical garden from nothing, started a blog and written his first book. He says, with tongue in cheek, "If this is semi-retirement I'm thinking of returning to working full-time as it is far less strenuous".
Where to find James King online
Books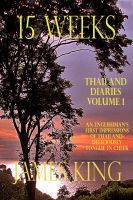 15 Weeks
By
James King
Price: Free! Words: 38,020. Language: British English. Published: February 17, 2014. Category: Nonfiction
Witty, informative, often deliciously 'tongue-in-cheek' and full of typically British humour, 15 Weeks is recommended for travellers, would be ex-pats and those who enjoy light reading and a good laugh.
James King's tag cloud