Janice K Hines Clark
Biography
Janice has been married to Nick for 49 years and they currently make their home in Oklahoma City, along with their son Paul. She works as an RN Team Manager at a local rehabilitation hospital on a unit specializing in spinal cord injuries. In her spare time she enjoys challenging word puzzles, watching old movies and creative writing on a variety of topics.

Janice is most passionate about her family and her faith in God. Her mother's passing in 2011 inspired her to write her first book about the life situations of her family who were led by the strong Christian values of their mother. Her siblings Gary, Larry, Gerald and Anita are among the most important people in her life and are a big portion of the story of this one family.

Janice studied at Penn Valley College in Kansas City, Missouri and at Webster University, also in Kansas City. She contributed to a revised teaching manual of Insulin Administration for the State of Missouri in Jefferson City. She also wrote a lengthy proposal to the State Board of Nursing in Missouri to establish a new nursing school. She served as an expert witness related to nursing issues for two law firms in Kansas City and was a nursing instructor for 20 years while living in the Kansas City area.

In addition to writing, she is also an accomplished speaker having delivered the Graduation Ceremony speeches at two schools of nursing and writing and delivering four eulogies for close family members.
Books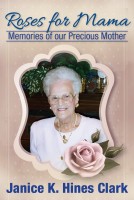 Roses For Mama: Memories of Our Precious Mother
by

Janice K Hines Clark
Mama was born on a farm near the small town of Port, Oklahoma in 1918. She lived through two world wars, The Great Depression, Prohibition, The Jazz Age, The Dust Bowl Days, and the Roaring 20s. This book is about our family's life experiences in the small towns of Cordell, Clinton and Oklahoma City, our heritage and our mother and the remarkable job she did raising her five children.
Janice K Hines Clark's tag cloud