Jim Andersen
Biography
William (Bill) Andersen was born in 1920 in Racine, Wisconsin. After high school he went into the Army and spent time during World War II in Guam. After the service he married his wife, Vena, and enrolled at the University of Wisconsin La Crosse. He earned his degrees in history and secondary education. He was on the football team while he was in college.
After college, in 1950, Bill moved to Kankakee, Illinois and taught high school social studies there for five years. In 1955 he moved to Burlington, Wisconsin where he taught history, speech, journalism and a few other subjects. He also coached the sophomore football and basketball teams.
In 1963 he moved to Racine, Wisconsin and taught at Racine Park High School until he retired in 1985. While at Park he did not coach any sports but he was the PA announcer for most of the high school's sports teams.
Bill passed away in 2011 at the age of 90.
This book was originally written about 1963. He tried unsuccessfully to get it published back then. Since his passing the original manuscript has been digitized and made available for all to read online. I hope you enjoy it. It is too good a story to let die so as a memorial to him I am trying to keep it alive for others to enjoy.
Dad included himself in the book as Mr. Williams, the "B" team coach, and me as Jimmy Andersen, the manager. I actually was an assistant manager for the "B" team when I was in sixth and seventh grade.
Books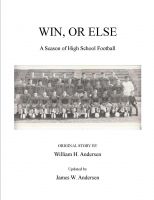 Win, or Else
by

Jim Andersen
This story begins in August of 1959 in the small rural town of Foxville located somewhere in the Midwest. Football practice was about to begin for Foxville High School. This book chronicles the Foxes quest for the elusive conference championship. As you read the book you will probably experience a range of emotions. You will feel like laughing, crying, being sad, mad, happy, glad and surprised.
Jim Andersen's tag cloud