Jo Ann Andre
Biography
Even though I have had the opportunity to live in many places, including France and the Philippine Islands, I have Midwest roots. This I'm sure influences my writing. I've written since I was a child. Even in elementary school, my teacher had me going to the different classrooms to read my stories. My College professor wrote my parents and told them I should consider writing as a profession. Yet I never really believed I had something to say that the public would want to read, so I've just written for me. Now I'm being courageous and exposing my so called "under-belly" and sharing with you my stories. I hope you find them endearing, inspiring and entertaining.

My background is in motherhood, friend, daughter and businesswoman. All these aspects of me also make their marks in my writing. In addition I struggled to become educated. I have several degrees in psychology,economics and education for secondary literature. Currently I am studying a multi-discipline degree in gender studies, mass communications and literature.
Books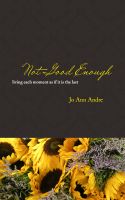 Not Good Enough
by

Jo Ann Andre
Liz's life seemed perfect.in her work and as as a single mom. She's engaged to a wealthy high profile man. But something was missing. An old flame reappeared awakening frozen passions,causing her confusion. Tragedy struck, challenging her relationships and who she was at her core. Will she break thru her own walls? Liz's story of awakening challenges all of us to discover that we are Good Enough!
Jo Ann Andre's tag cloud