Jane Frances Thompson
Biography
Jane Frances Thompson wears many hats. She is an oil painter, a caregiver of elders in her home, runs two charities, councils people on how they can help themselves heal on their emotional healing and spiritual paths, has a passion for how to eat to live life optimally from the best that the Earth gives us, how to heal from food, herbs and homeopathy, is a colonic therapist and loves her children, four of her own, four step children and six grand children. She has a loving supportive husband who she loves with all of her heart, Ron. Jane found fulfillment once she understood she was One with All That Is and that the essence of All That Is is Love. At that point she was compelled to find as many ways as she could to love her fellow human beings and the earth and all life upon it as herself. Jane works hard to help the world become a better place for all in as many ways as her heart leads her to.
Books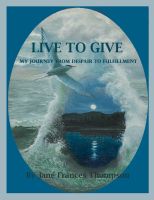 Live to Give: My Journey From Despair to Fulfillment by Jane Frances Thompson
by

Jane Frances Thompson
Jane Thompson shares her true adventure of growing up in an overwhelmed alcoholic Irish Catholic household to the wilds of Alaska! She shares her healing journey with her mother and father. Her beloved teacher in India, Sathya Sai Baba, came to her in dreams and visions and led her to full Self-Realization. She ventures to India to see Him seven times.
Jane Frances Thompson's tag cloud