Janet Brennan Croft
Biography
Janet Brennan Croft is Head of Access and Delivery Services and Faculty of Research and Instructional Services for the Rutgers University libraries. She is the author of War in the Works of J. R. R. Tolkien (Praeger, 2004; winner, Mythopoeic Society Award for Inklings Studies) and has written on the Peter Jackson films, J. K. Rowling, Terry Pratchett, Lois McMaster Bujold, and other authors. She is the editor or co-editor of four collections of literary essays. She also edits the refereed scholarly journal Mythlore and serves on the Mythopoeic Press Editorial Board.
Where to buy in print
Books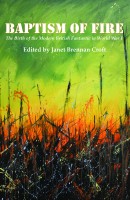 Baptism of Fire: The Birth of the Modern British Fantastic in World War I
by

Janet Brennan Croft
Baptism of Fire examines selected examples of the fantastic response to World War I among British authors. The contents comprise a mix of five classic articles from the pages of Mythlore and twelve new essays. The first half of the book considers the Inklings, the Oxford literary group centered on J. R. R. Tolkien and C. S. Lewis, while the second half deals with other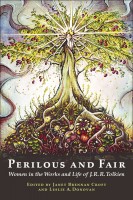 Perilous and Fair: Women in the Works and Life of J. R. R. Tolkien
by

Janet Brennan Croft

&

Leslie A. Donovan
Perilous and Fair includes seven classic articles as well as seven new examinations of women in Tolkien's works and life. These fourteen articles bring together perspectives not only on Tolkien's most commonly discussed female characters—Éowyn, Galadriel, and Lúthien—but also on less studied figures such as Nienna, Yavanna, Shelob, and Arwen.
Janet Brennan Croft's tag cloud