Janet Cameron
Biography
Janet Cameron has a BA (Hons) 2.1 with the Open University in literature and philosophy, (1994-96) including "The Philosophy of Art." She holds an MA in modern poetry with the University of Kent at Canterbury, (2001-2003), incorporating the philosophical manifestos of major poets and the work of the controversial founding father of deconstruction in philosophy, Jacques Derrida. Janet is a retired lecturer at the University of Kent.
Cameron holds a full Cert.Ed in further education (1993) and has lectured for many years in English literature and creative writing. She is an award-winning writer, and the author of twelve books, mostly regional history publications, numerous articles on history, philosophy, feminism and human rights and short literary fiction. She also writes a monthly magazine column for Writers Forum.
Books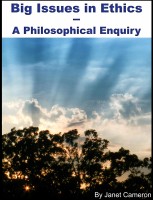 Big Issues in Ethics – A Philosophical Enquiry
by

Janet Cameron
(5.00)
Without applying our philosophy, how could we evaluate just and workable laws for society to live by? How would we discuss our morality and ethics and apply them for the benefit of humankind? How would we decide how to behave, so we may do the least harm to each other – and to other living species? Join philosopher Janet Cameron as she examines various aspects of ethical philosophy.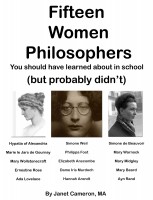 Fifteen Women Philosophers you should have learned about in school (but probably didn't)
by

Janet Cameron
(4.67)
Why a book on women philosophers? Philosophy is genderless, but the under-representation of women in philosophy is an unfortunate truth. Join award-winning author, retired lecturer Janet Cameron, MA as she explores fifteen female philosophers you may never have heard of - women who changed the world, and the way we think today.
Janet Cameron's tag cloud