Janet MacDonald
Biography
Janet MacDonald writes paranormal and fantasy erotic Romances. She stumbled upon this creative outlet quite by accident in 2012 and has become just short of being obsessed with writing. A mother of three lively and over imaginative daughters, Janet finds her inspiration in everything around her. Finding spontaneous story ideas from a simple restaurant sign to the lyrics in a song, it's why one will always find her clasping desperately to her tiny laptop. She lives in a small Canadian east coast village with her beloved, yet very confused, cat Grubby, who thinks it's a dog.
Where to find Janet MacDonald online
Books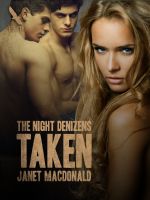 Taken
by

Janet MacDonald
A kidnapping goes awry and those involved are thrown headlong into events that change their lives forever. For twins, Caleb and Kaiden, it means a possible mate. Then they must convince their kidnap victim not only should she trust them and be their mate, but also become a werewolf. Then events fling the trio into a vampire's plot to stop a half-demon from waging a war on humans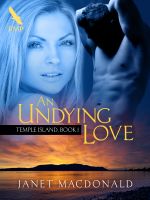 An Undying Love
by

Janet MacDonald
An ancient Temple ruin and a love as old as time itself. Sometimes even death can't keep lovers apart. For Anya and Dante, it'll mean sharing something no other on Temple Island has for centuries. However, can they overcome being from enemy packs long enough to see they're what each other had been searching for?
Janet MacDonald's tag cloud