Jan O'Leary
Biography
Janet Tedstill knew as a schoolgirl that she wanted to be a nurse. She got her wish at sixteen with a training place at an orthopaedic hospital, but it wasn't long before adventure called and she joined Queen Alexandra's Royal Army Nursing Corps, the nursing arm of the British Army. While serving in Hong Kong she met her future husband, Denis O'Leary, a dashing British officer, serving in a Gurkha battalion.

Jan went back to nursing in the UK some years later, after raising a family. She moved on to an industrial job in occupational health and then into a colourful and exhausting district nursing post. She finally retired in 1991, after experiencing the political pressures of a job in liaison nursing. Soon after she retired, disaster twice struck closer to home – and Jan had to devote much of her time to caring for her own critically-ill daughters. Now in her seventies, she has found the time and peace to write her story.
Books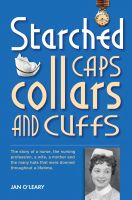 Starched Caps, Collars and Cuffs
by

Jan O'Leary
The story of a nurse, the nursing profession, a wife, a mother and the many hats that were donned throughout a lifetime.
Jan O'Leary's tag cloud