Jasmine Michaelson
Biography
Jasmine Michaelson grew up in Idaho Falls, Idaho, and earned her BA in print journalism from Utah State University. She currently resides in San Diego, California, with her husband, Jake, and their three-year-old son. She is a full-time stay-at-home mom who, like many stay-at-home moms, spends her spare time noodling on a cyberpunk novel.
Books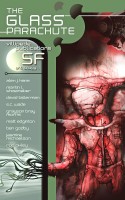 The Glass Parachute
by

Villipede Publications

,

Alex J. Kane

,

Martin L. Shoemaker

,

David Tallerman

,

S.C. Wade

,

Grayson Bray Morris

,

Matt Edginton

,

Ben Godby

,

Jasmine Michaelson

, &

Rob Oxley
(5.00 from 1 review)
This science fiction anthology features eleven original short stories. Each story is accompanied by a black-and-white illustration. The stories span the breadth of the science-fiction genre, from cyberpunk to alien contact to genetic manipulation to social dystopia. Some investigate the "hard" technological side of SF, while others explore the genre's "softer" social implications.
Jasmine Michaelson's tag cloud