James P. Peters
Biography
Thinker, poet, and teacher, J. Peters has traveled the world and has sat still in cafe corners, looking and listening. A San Franciscan for many years, he claims Martin Heidegger as a strong thought influence but loves to tell stories more than prosify about philosophy. He will be reading in the San Francisco Bay area some times in the 2012-2013 season. Check his web site for current details.
Where to find James P. Peters online
Books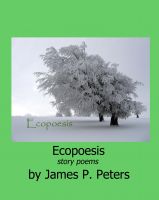 Ecopoesis
by

James P. Peters
Price: Free!
Words: 3,290.
Language: English.
Published: August 9, 2012
. Categories:
Fiction
»
Poetry
»
Epic
Poetry which tells stories allows readers to investigate and think about aspects of real world issues: the environment, sexuality, and thinking itself. This ebook gives poems in all three categories, drawn from a large website containing many more poems. It is hoped that this sample will draw you to further explorations in thinking by means of story poems.
James P. Peters' tag cloud