J. Allen Thomas
Biography
J. Allen Thomas was born and raised in New York City. He was primarily an artist, but dabbled in writing by doing music and movie reviews, under an assumed name, for various websites. 'Stupidity Rising' is Mr. Thomas' first published work. Mr. Thomas resides in Stuart, Florida and divides his time between art, writing, and his two daughters.
Books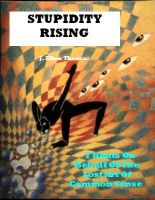 Stupidity Rising: 7 Rants On Behalf Of The Lost Art Of Common Sense
by

J. Allen Thomas
J. Allen Thomas takes a critical, and often humorous, look at the gradual erasing of common sense from the fabric of society. You'll find yourself nodding in full agreement as Allen exposes the sheer stupidity that passes for normality in today's world. Who knows? You may find that you know someone that fits the characteristics that this book explores. If so, get them to read this book.
J. Allen Thomas' tag cloud