howard fischer
Biography
Howard E. Fischer -Biography

Author
1. Jazz Exposé: The New York Jazz Museum and the Power Struggle That Destroyed It.
2. The Holland Avenue Boys: A Success Story.

Music Memorabilia sales
Sold records (LPs, 45rpm, 78rpm), sheet music, photos, books, posters, etc. 1997-2011.

Writer, Producer, Director - documentary film. 1998
THE HOLLAND AVENUE BOYS: A SUCCESS STORY.
1998 Video 58 minutes Shown on over 50 PBS stations.
http://www.a1documentaries.com

Founder and Publisher - TREASURE CHEST. 1988 -1996 (sold).
Antiques and collectibles monthly newspaper covering the northeastern United States with 50,000 circulation. Started with 12 pages and 17 advertisers in one issue. At peak had 40 pages and 292 display advertisers in one issue. Was profitable after 8 months of launch. Designed, handled all sales, wrote some articles, edited, arranged for distribution, provided administrative functions and produced each issue.

Publisher - Venture Publishing Co. 1977-1987.
Wrote and published books and periodicals.

Founder and Executive Director - New York Jazz Museum. 1972-1977.
Devised business plan, raised all funds from foundations, government agencies, corporations and individuals. Devised membership program, established income-generating sales shop, film programs, exhibits, posters and booklets, touring programs (United States and overseas) and live music programs in the Museum sponsored by Seagrams. Produced Jazz Puppet Show and multi-media history of jazz. Produced and published a monthly jazz newsletter for 8 years. Established archive of 25,000 items. Negotiated all contracts, including lease of 2-story building in midtown Manhattan and then purchase of another building in midtown with the help of the Ford Foundation.

Attorney at Law - private practice. 1964-1972.
Licensed in New York State and specialized in entertainment and nonprofit law. Represented arts organizations in music, dance, film and theatre. Artists represented include Charles Mingus, Elvin Jones, Sy Oliver, Wild Bill Davison and Harrison Smith (manager of Jelly Roll Morton).

Contributed articles to numerous publications including Variety, Backstage (columnist), Performing Arts Review and New York Law Journal. Wrote early monograph on nonprofit law that was purchased by the U.S. Supreme Court and
many major law firms in the United States.

Personally generated feature stories related to the above activities in the New York Times, Daily News, New York Post, Newsday, Christian Science Monitor, Playboy, Ford Times, Cash Box and Variety et al. Appeared on the Today Show, To Tell The Truth, Straight Talk, Voice of America et al. as well as numerous other radio interview shows.
Books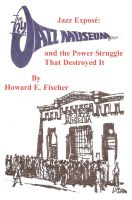 Jazz Expose: The New York Jazz Museum and the Power Struggle That Destroyed It
by

howard fischer
Have you ever heard of the New York Jazz Museum? Most people have not.Yet between 1972 and 1977 it was the most significant institution for jazz in the world! This book looks back to present the story of a Lost Museum.It was situated in its own two-story building in mid-town Manhattan and had a small staff, an archive that eventually numbered about 25,000 items and extensive programs in New
howard fischer's tag cloud