J. B. Walker
Biography
J.B. Walker's Space Trash is set in a near-future world of space missions and covert governmental space programmes. Chas Thomas has wrongly been convicted of embezzlement and rather than seeing his sentence out in jail, he opts for enrolment on the 'Space Debris' programme. But the mission is shrouded in secrecy and Chas's search for details is met by silence at every turn. When his astronaut contact, Greta Laars uncovers the conspiracy surrounding Chas's conviction and they both learn of the secrets behind the space mission, they are thrust into a deadly game of cat and mouse. As Chas plans to make his way back to Earth, it seems that Earth holds as much uncertainty and danger for the pair as space.
Where to buy in print
Books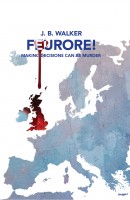 Feurore!
by

J. B. Walker
Political opinions are a touchy subject in any situation. When a hot debate is ongoing about Britain's status within the European Union, arguments are bound to flare up and tensions run high - but no one would stoop to murder over such political viewpoints, would they?
J. B. Walker's tag cloud