J.G. Contor
Biography
Born and raised in Idaho, I constantly had access to the outdoors; hiking, fishing, hunting, camping, skiing, and summer water sports. After high school, I spent two years in Korea teaching English and proselytizing for the Church of Jesus Christ of Latter-day Saints. I was exposed to an entirely different culture and learned the virtues of knowing the way others think. Shortly after returning from Korea, I enrolled in college in Hawaii on the island of O'ahu, and soon became exposed to more cultures from the pacific islands. College education focusing on English, Creative Writing, and Theatre gave me opportunities to dive into literature and enjoy the depth of writing and its potential. Hawaii became my first love and the one place where I always wanted to return to, should I find myself away. In Hawaii, I met my wife, and we were married in Kona. We lived and taught in Hawaii for two years, before moving to the mainland to escape high rent prices. We are now pursing more school and continuing to write and create new stories and worlds to put them in.
Smashwords Interview
Books
Future of the Earth: The Derelict
by

J.G. Contor
Captured, alone, and deep inside enemy territory, Alu'a must escape. Her enemy, her captors, aliens her people call the Apak; they are ruthless, relentless, and bent on dominating all life. Alu'a is at their mercy and has been for years. The Apak interrogations challenge everything she believes in. Unbeknownst to the Apak she has learned a great many things that may aid her people in the war.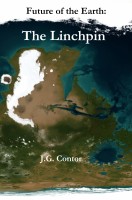 Future of the Earth: The Lincphin (All Parts)
by

J.G. Contor
IMF soldier Tech Sergeant Grant Harlin, lives the life of any ordinary mopper. During a routine recon mission, and with the help of his team, Harlin discovers a truth that challenges humanity's knowledge of its origins. When the mission goes wrong, Sergeant Harlin is separated from his team by forces beyond his control. He quickly learns of a threat to not just the IMF but all of humanity.
J.G. Contor's tag cloud