J.D. Alt
Biography
J.D. ALT started out intending to be a novelist, but became an architect and urban designer instead. He holds two U.S. patents for a downtown people mover system called "SMARTram". He has lectured on the form of urban communites at various national and international conferences, and was invited to present his urban transit concepts in Beijing, China. Most recently, he completed two experimental houses in Port Townsend, Washington, built around a prototype prefabricated core module called a "HOUSEED". Poised for a business start-up in 2009, the venture was put on hold because of the housing market collapse. Mr. Alt used the downtime to produce his first novel: The Architect Who Couldn't Sing.
Books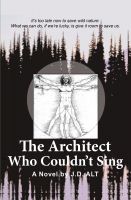 The Architect Who Couldn't Sing
by

J.D. Alt
A design competition for a new utopian community elicits competing visions for the future of human settlements, but none is more controversial than the submission by Charlie Cadwell's mysteriously lost architect-father, a surprise that entangles Charlie with the most erotically beautiful girl he's ever met and the inevitable forces of greed and corruption that undermine the human prospect.
J.D. Alt's tag cloud