Jeaneal Byrd
Biography
Dr. Jeaneal (Rush) Byrd is a native of St. Louis, Missouri. She is the wife of the Rev. Dr. Anthony L. Byrd, Sr., they celebrate over 34 years of marriage. They are the blessed parents of five sons and a niece whom they helped raise and claim as a daughter, all of whom are gifted and blessed by the Lord. Three of their five sons are also in the ministry; one of them being a pastor as well.
Dr. Byrd serves alongside her husband as Co-pastor of the First Baptist Church in Elwood, Kansas, where she accepted her call to minister The Gospel in 1996. She also oversees the youth and music ministries of First Baptist. She is a spiritual mother to men and women both locally, and across this nation. She is the founder of "Grace 4' Me Ministries" through which she has been a blessing to many homeless and battered women; ministered the Gospel over the airwaves of Kansas City's KGGN gospel radio for over five years; appeared on TBN as a recurring guest, hosted alongside her husband for the "Praise the Lord" broadcast, and participated as a volunteer for their Prayer Ministry department.
Dr. Byrd currently produces and hosts her television broadcast ministry "Grace 4 Me" which airs in Northeast Kansas and can be seen on her website as well. It consists of interviews and solutions regarding various addictions and issues of life; she is also currently working on the next book the Lord has given her to write. God has blessed her to obtain her Associates in Theology, a Bachelors in Ministry, a Masters in Counseling, and a Doctorate in Ministry from the Ambassadors of Faith College and Seminary, (St. Joseph, Mo.) where she also served as an instructor. She continues her education at the University of Phoenix where she will soon obtain her Bachelor of Science Degree in Human Services. God continues to use her greatly as she shares her God given gifts to make the difference in the lives of others.
Dr. Byrd is a Holy Ghost filled woman of God who loves the Lord with all her heart. She is committed to proclaiming Christ and Him crucified. Her mission is to turn the hearts of men and women back to God.
Books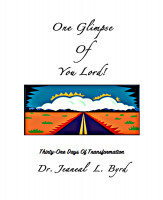 One Glimpse of You Lord (Thirty-One Days of Transformation)
by

Jeaneal Byrd
"One Glimpse of You Lord" is a thirty-one day guide of transformation into who God designed you to be… it's a short daily devotional that, if applied for 31 days, will restore you and give you a stronger relationship with our Lord and Savior Jesus Christ.
Jeaneal Byrd's tag cloud