Jean Huets
Biography
Jean Huets is co-author, with tarot authority Stuart R. Kaplan, of The Encyclopedia of Tarot, four volumes that cover centuries of tarot production and imagery and include illustrations from thousands of decks. During her tenure as senior editor at tarot publisher U.S. Games Systems, she worked on many groundbreaking tarot decks, including Motherpeace Tarot, Native American Tarot, and Brian Williams' Renaissance Tarot.
Where to find Jean Huets online
Books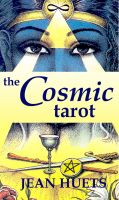 The Cosmic Tarot Book
The Cosmic Tarot book is an inspiring interpretation of the tarot. Each Major Arcana card is described in terms of "The Cosmos," "The Human Community," and "The Individual." The Minor Arcana cards focus on personal ambitions, hopes and fears, and loves, with special attention to relationships. An ideal companion to the Cosmic Tarot deck by artist Norbert Loesche.
Jean Huets's tag cloud