James Coyle
Biography
James Coyle was born in 1945 and died in November, 2009. This is the first of three detective novels he wrote. Educated at St. Louis University, Rice and Fordham, he relished life long passions for reading, writing and film. In his 40's he studied the detective genre and found it ripe territory for his talent and his uniquely "literary" approach. His narratives weave in rich tapestries of places he lived in and loved including San Francisco and Northern California (the settings for this novel) and New York City. His novels are punctuated with clever and often humorous references to his wife and close friends.
Books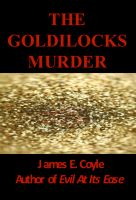 The Goldilocks Murder
by

James Coyle
Timothy Walker is hired for a missing person case by a consortium called the Seven Sisters. He finds the missing sister, murdered by a blow to the head from a sack of gold nuggets. His investigation incriminates the unstable Carol Brandauer,engaged in a deadly game of pursuit himself. Those who enjoyed Jim Coyle's California detective novel, Evil at Its Ease, will like this set in both CA and NY.
James Coyle's tag cloud