Jeff Schajer
Biography
Jeff Schajer has worked as a bond trader, a venture capitalist, and in high-end fine art sales. He is a graduate of New York University and lives about fifty miles outside of New York City with his wife and daughter where he is currently at work on a novel and several short stories. Still The Enemy is his debut novel. Terror Hunter's Holiday was his first published work.
Where to find Jeff Schajer online
Books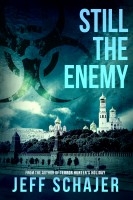 Still The Enemy
by

Jeff Schajer
Forgotten in America's War on Terror is that there are other enemies who wish to destroy our way of life. Islamic terrorists remain the number one priority but they are not the only ones who are intent on bringing death and chaos to our streets. Past adversaries are…Still The Enemy. This is a complex tale of terrorism, espionage and assassination. Fans of Vince Flynn and Brad Thor will enjoy this.
Jeff Schajer's tag cloud