Jennifer Caress
Biography
A Colorado native, Jennifer began writing poetry as a means of exorcising and subsequently dissecting her thoughts, a poor girl's therapy as it were. These turned into short stories and slowly but surely longer stories. The stories tend to become paranormal, horror, or dark fantasies through no fault of her own. As most writers know, the work goes where it wants.
Where to buy in print
Books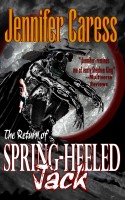 The Return of Spring-heeled Jack
by

Jennifer Caress
Spring-Heeled Jack is a British urban legend, first appearing in 1837. Eye witnesses tell of a man who could leap several stories in the air with little effort. Some say he could breathe blue fire, others say he lured women out of their homes and attacked them by clawing at their faces. He breaks into an antique store. Enter Alice, who works at the store, and the two develop an unlikely alliance.
Jennifer Caress' tag cloud