Jerry Rabushka
Biography
Jerry Rabushka is well-known as a playwright for Brooklyn Publishers and Heuer Publishing, with dozens of scripts on the market and performances across the USA and internationally. As an actor and director, he's produced his own work on many stages. Also a composer and songwriter, he's produced several CDs of original music and was nominated for an Outmusic (LGBT artists) award. He's won several writing awards and is a two-time winner of contests sponsored by the Saints and Sinners Literary Festival: for fiction with "Wasted Courage" in 2012, and for playwriting with Brushup Ten in 2010.
Where to buy in print
Books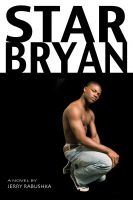 Star Bryan
by

Jerry Rabushka
Born into a high-profile political family, Star finds himself in a web of racial bickering in turn of the 21st Century St. Louis, where both black and white society often balk at those who can move easily between the two—and where being aggressively out of the closet can land him in trouble.
Jerry Rabushka's tag cloud