Jerseline Granviel Ansano
Biography
Jerseline Granviel was born in Curacao, a tiny island in the Caribbean. Through her growing up years and beyond, her charismatic nature and love for people made her a great friend as well as an easy target for hurt and even abuse. But with God's help, she survived—and eventually flourished. Healed and motivated by Jesus' love and compassion, she has found the courage to share her heart, experiences, and failures with others to help them thrive in their relationship to God, family, and themselves. Speaking and counseling in schools, camps, and radio programs, she has reached out to many within her own country and internationally. In her first book, Jerseline teaches and challenges Christian women to humble themselves and model Jesus' compassion in all their relationships. Jerseline serves God as a pastor's wife on the island of Aruba and is devoted to her husband, three children, and six grandchildren.
Books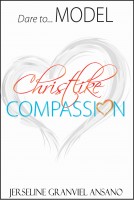 Dare to...Model Christlike Compassion
by

Jerseline Granviel Ansano
We all sometimes face gut-wrenching, life-altering circumstances. When that happens, we can be bitter and judgmental . . . or kind and compassionate. Jerseline Granviel learned to choose compassion. In Dare to Model Christlike Compassion, you will learn that no matter how tattered your life has been…no matter what struggles you are experiencing now…you can learn to mirror Christlike compassion.
Jerseline Granviel Ansano's tag cloud