Jess Flaherty
Biography
Keith and Jess reside in the beautiful mountains of Vermont with their two children, three cats, a dog, and an immortal guinea pig. Jess has worked in newspaper and art publishing, freelance writing, cake decorating, and presently works as a special education teacher. She enjoys playing the ukulele badly, reading, and binge-watching unhealthy amounts of TV. Keith spent many years as a chef and business manager and now runs a quaint country store. He can often be found writing poetry, reading, or cooking something amazing. They love to cook together, go hiking around the gorgeous terrain Vermont offers, and spend time together and with their boys. They also enjoy working together to create a world with interrelated but independent compelling stories.
Where to find Jess Flaherty online
Books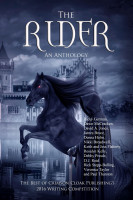 The Rider
by

Crimson Cloak Publishing

,

Ricky German

,

Dawn McCracken

,

David Alan Jones Jones

,

James Bruce

,

Denna Holm

,

nikki broadwell broadwell

,

Keith Flaherty

,

Jess Flaherty

,

Rosalyn Kelly

,

Debby Proulx

,

D J Reid

,

Rick Stepp-Bolling

,

Veronica Taylor

, &

Paul Thurston
The Winners of the 2016 Crimson Cloak Fantasy short story writing competition, along with a selection of the best runners-up, are presented here in a compilation volume entitled THE RIDER. Writers were asked to write a story of 1500-3000 words based around a stock picture showing a hooded rider in a fantasy landscape. Buy this book to read the cream of the crop.
Jess Flaherty's tag cloud