Jessica Draper
Biography
Jessica Draper is the author of the Last Days adventure trilogy: Seventh Seal, Rising Storm, and Final Hour. A bibliophile and wannabe librarian, she landed unexpectedly in the wired world. After several years of writing software documentation--which sometimes qualifies as speculative fiction--she left the tech industry to become an instructional designer creating multimedia courseware. Her latest novel Hunting Gideon and its upcoming prequel, Dancing with Eddie D'Eath, represent additional forays into a not-so-distant future, simultaneously fantastic and believable.
Where to buy in print
Books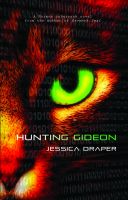 Hunting Gideon
by

Jessica Draper
As an agent in the FBI's National Infrastructure Protection Center, Sue Anne Jones stalks the V-Net, the ultimate virtual-reality interface. She and her partner, Loren Hunter, have been ordered to hunt down a scripture-quoting cyber-terrorist who calls himself "Gideon." Hunting Gideon sends Sue and Loren on a wild chase as they scramble to avert the ultimate online disaster.
Jessica Draper's tag cloud