Jewel Williams
Biography
Jewel is the founder of Jeweled Ministries, a Christian Womens' communication tool to develop and encourage women. She is also, the co-founder of Wiseducators with her husband, Eugene Williams, Jr. She hosts Inspirational Jewels BlogTalkRadio Show which airs Author Spotlights and Leading Ladies that serve the community, nation or international areas. She and her husband travel to give workshops and seminars on The Writing Alternatives to the Novel, i.e. Blogs, articles, workbooks, etc. Additionally, has authored I Am the Darker Brother Workbook to her husband's novella, I Am the Darker Brother , Self-Publishing 101: A guide to preparing, marketing and publishing your masterpiece. , and A Special Woman Reigns. She has written articles, newsletters, and press releases. She diligently works on articles, short stories, e-course workbooks and additional writings.
Where to find Jewel Williams online
Books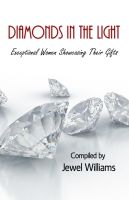 Diamonds in the Light
By
Jewel Williams
Price: Free! Words: 9,510. Language: English. Published: January 14, 2012. Category: Nonfiction
Several exceptional women are sharing their stories, testimonies, and poems expressing their passion for life.
Jewel Williams's tag cloud