John Farquhar
John grew up in Holland Patent, a small village in upstate New York. After busting out of the Air Force Academy and Cornell, he cooled off as an Air Force enlisted man. John joined the RAND Corporation in 1968, to do research on command-control of US forces in Europe, and applying information technology to health care and public education. On being named Associate Head of the Information Sciences and Mathematics Department, he led a staff of seventy researchers investigating a variety of topics. John later joined the Pacific-Sierra Research Corporation, to investigate communication with nuclear submarines, and methods to harness geothermal energy. He also consulted with other think-tanks, including System Development Corporation and The Assessment Group.
Through the 1980s and 1990s, John worked with Coopers & Lybrand (now PriceWaterhouseCoopers). He became Managing Partner of the firm's Midwest Resource Management consulting practice, spanning eleven states and employing more than 200 staffers. He advised a variety of clients on business strategy, cost reduction, and strategic use of information technology. A decade later he joined CSC, an information technology provider with 90,000 employees in 77 countries. As a Marketing and Sales Managing Director, he directed campaigns that won billion-dollar outsourcing arrangements with Fortune-50 companies such as DuPont, ATT, and JP Morgan.
Fed up with middle managers and middle airplane-seats he fled in 2000 to North Carolina, to read and write. No Foreign Sky, a sprawling story of war and redemption set on World War II's Eastern Front, was published in 2008. His next novel, Prisoners, imagined an affair between a Texas farm wife and a German prisoner-of-war (one of 400,000 held in the US during World War II). Pitiless as the Sun is his third novel.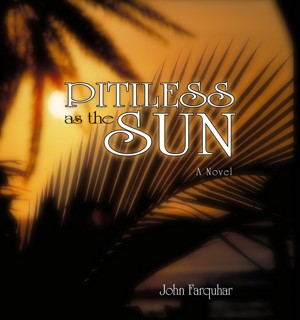 Pitiless as the Sun
by

John Farquhar
Price:
$5.99 USD.
Words: 104,270.
Language: English.
Published: September 13, 2012
. Categories:
Fiction
»
Coming of age
At the height of the Cold War, Scott Shoemaker, a think-tank scientist, helps craft a nuclear strategy to blunt a terrifying Soviet missile. Simultaneously, he sets out to find Sara, his lost lover. He trails the beautiful, doomed actress across a shattered 1970s landscape of drugs, easy pleasures and phony prophets. Scott's search leads him deep into himself—and to a place called Jonestown.