JF Rueda
Biography
Texan born, now resident of New Mexico. I have a Masters of Architecture and worked in retail for so many years learning about people. Though I have written other works in the past for pleasure and creative goals, The Oracle Chronicles will be my first series. This project is also my first one released into the world, albeit the self-publishing way. In it, I plan to surpass myself with each addition by improving my writing skills and to dig deeper into my thoughts about the human spirit.
Books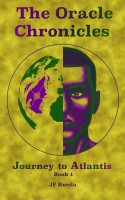 The Oracle Chronicles: Journey to Atlantis Book 1
by

JF Rueda
Martin has always believed that his future can be shaped by his hands. Hard work and determination is all that it takes. So far, he has failed. Then he meets people whose culture should be extinct, do the impossible things they do, or speak the mythic language of Atlantis and the future becomes more palpable.
JF Rueda's tag cloud