Jarrod Gipson
Biography
The world refers to me as Jarrod Bradley Gipson . I was born on May 20, 1991 in Charlotte, NC. I've always had a passion for music and I listen to various genres. My favorite genres are Rap and Jazz (especially rap). I love to listen to music as a fan but I also analyze the lyrics because it gives me a better understanding of the artists style of writing. I am a lyricist (rapper to be exact) as well but I also enjoy history, politics, and anything that involves learning. I recently graduated from Fayetteville State University so that was definitely an accomplishment for me. I aspire to be a leader/activist so everyday I take small steps towards reaching that goal.
Books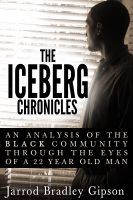 The Iceberg Chronicles: An analysis of the Black Community through the eyes of a 22 year old man
by

Jarrod Gipson
The Iceberg Chronicles is my analysis of the Black community at the age of 22. I wrote this book because I wanted to share an unorthodox perspective with the readers. I discuss gangs, politics, the civil rights era, hip hop, history, and other controversial topics. This is my first published book so it is definitely a huge accomplishment for me. I hope you enjoy.
Jarrod Gipson's tag cloud