Judith Granahan
Biography
I write becasue it facinates me. I attemtped children's books at first becuase I had children. Then my divorce stopped all that. As a single mother of two young sons and no way to earn a decent living I went back to school and got my Nursing degree at the University of Minnesota. For years I was busy learning about the world, being a single mother, furthering my nursing career, to have any time for writing. Then a friend dared me to join a writer's group and I've been hooked ever since. My characters lead the way. They are usually strong women I put in difficult situations. There are twists and turns, just like in life. Sometimes they come up short, other times they crash and burn, sometimes they shine. All the way I have a grand time creating them and the plot. Writing is my only way of controlling the world and I love it.
Books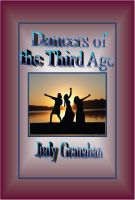 Dancers of the Third Age
by

Judith Granahan
Anna Mae, bewildered, frightened by her own sudden irrational behavior, blurts out a long held, dark secret to friends she believes will understand what she did. They don't. Fueled by their own pasts, Libby and Ginger unravel. Hiding anger and disbelief, they take Anna Mae on a road trip to face the people they feel she's wronged. Their journey changes them, and those they meet along the way.
Judith Granahan's tag cloud