James Haines
Biography
With a background in structural engineering, programming, and teaching, Jim Haines has the right combination of resources to explain how the physical structure of our universe can be generated by software - by words, firmly held. A graduate of Drexel University, he has designed and written numerous software applications for business. He is known for having solved software problems often in unique and clever ways.
Videos
The Genesis Puzzle
How Genesis Chapters 1 and 2 fit together to reveal God's plan.
Books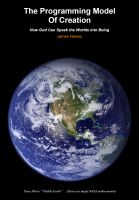 The Programming Model Of Creation: How God Can Speak the Worlds into Being
by

James Haines
(2.50 from 2 reviews)
We are now able to model worlds created "Ex Nihilo": out of nothing, as the first chapter of Genesis describes. In a thought-provoking way, this book considers the model and compares it to Bible verses that may hint of just such an origin. The conclusions offer an interesting perspective on miracles and the intent of God. Suitable for high-school age and up.
James Haines' tag cloud