Jim Davidson
Biography
Jim Davidson is the founder and past president of the National Association for the Advancement of Perry Mason and former publisher/editor of the periodicals NAAPM Newsletter and Classic TV. His articles, interviews, and reviews have appeared in Films in Review, Filmfax, Tower Records' Pulse! magazine, and The TV Collector. He has contributed research to the books The Complete Directory to Prime Time Network TV Shows (Fifth Edition) by Tim Brooks and Earle Marsh (Ballantine Books), Primetime Proverbs by Jack Mingo and John Javna (Harmony Books), Donna Reed: A Bio-Bibliography by Brenda Scott Royce (Greenwood Press), and was a member of the expert panel that ranked shows for The Best of Crime & Detective TV by Max Allan Collins and John Javna (Harmony Books). He has appeared on TV in The Case of the Courtroom Legends, a Showtime special about Perry Mason author Erle Stanley Gardner and star Raymond Burr, and was co-producer of the Perry Mason 50th Anniversary Edition DVD set from CBS-Paramount.
Where to find Jim Davidson online
Books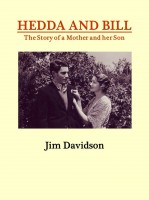 Hedda and Bill: The Story of a Mother and her Son
by

Jim Davidson
Short biography of gossip columnist Hedda Hopper and her son, actor William Hopper. In the path to success, each had a different obstacle to overcome: hers was balancing the demands of motherhood and a career; his, the influence of an over-domineering mother. The author chronicles the ups and downs of their often-strained relationship.
Jim Davidson's tag cloud