Jimmy Hager
Biography
Jimmy Hager has been telling stories since he learned to talk. As a toddler, he had an imaginary friend named Richard, who told him stories until Jimmy became fully self-aware somewhere around the second grade, when he started making up his own stories to entertain his playmates, classmates and teachers. From the age of fourteen until age twenty-seven, he played rock and roll saxophone in various South Carolina bands. During this time Jimmy's groups opened for Jerry Lee Lewis, Janis Joplin, Chicago, The Allman Brothers, Poco, and virtually every major soul and rock act touring America from 1963 until 1972. When his friend Duane Allman died tragically, Jimmy quit touring, moved back to Charleston and got married. He became a public speaker, got his degree in English from The College of Charleston, and became a self-taught Faux Finish Artist. Specializing in high-end interior designs in the historic district of Charleston, SC, his decorative art work took him all over the United States. His book on the craft, The Faux Finish Artist: Professional Decorative Painting Secrets is available at Amazon. Divorced in 1998, Jimmy decided to give acting a go and after his first audition was cast as Atticus Finch in the Charleston Stage Production of To Kill A Mockingbird at the historic Dock Street Theater. During his acting career, he appeared in dozens of stage plays, over one hundred television commercials and twenty films. Working with film legends such as Gale Anne Hurd, Julia Ormond, Jim Caviezel, Sam Shepard, Joe Anderson, Danielle Panabaker, Michael Landon, Jr. and Brian Bird. He lives in Columbia, South Carolina with his wife Joanne and their spoiled rotten English Cocker Spaniel Berkeley. The Merch is his first novel.
Where to find Jimmy Hager online
Books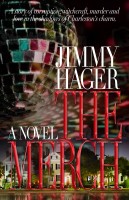 The Merch
by

Jimmy Hager
In the genteel heart of Charleston, SC, a secret buried for forty-four years, is resurrected with dire implications for all concerned.The Merch is a taut, viscerally acute mystery set in 1970, when the Holy City known to modern day tourists and romantics was the best kept secret in America and The Merchant Seaman's Club was the hottest nightclub on the east coast.
Jimmy Hager's tag cloud