Jim Rosano
Biography
Jim has been a singer, songwriter, musician, and worship leader in several local churches over the years. Early on, his song, "Reign King Jesus Reign" started to travel to other nearby churches. After being published by New Zealand's "Scripture in Song", it began to travel worldwide.
When he was invited to teach a songwriting session at a regional worship conference, Jim took some time to examine and document his own songwriting process, so that he could share it at the conference. This book is the result of that time of studied introspection.
Books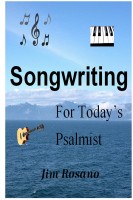 Songwriting for Today's Psalmist
by

Jim Rosano
Wouldn't it be nice to hear a successful songwriter explain exactly how the songwriting process works? Well, the author of this book has written several songs that have been both published and performed around the world. Jim Rosano will take you through a series of songwriting steps that you, too, can follow to create and refine your own songs.
Jim Rosano's tag cloud