Jim Rosborg
Biography
Dr. Jim Rosborg, has recently been appointed as the Director of Graduate Education at McKendree College and instructor of graduate classes in Education. In June of 2005, Rosborg retired after eleven years as superintendent of the 3,750 student Belleville Public School District #118, Belleville, Illinois. He has consistently focused his energy on building a climate of collaboration to benefit all students. Under Rosborg's leadership, Belleville #118 had some of the highest district scores in the state of Illinois. In addition, District #118 schools received Golden Spike Awards, State and National Blue Ribbon Schools Awards, and most recently, the Northern Illinois University's Spotlight Awards for the academic achievement. Rosborg praises his staff and the support of the Belleville District #118 Board of Education, parents, and community members for the success of the boys and girls in the District.

The collaboration between Rosborg and key stakeholders also led the District to receive the national AFT-Saturn/UAW Collaboration Award in 1999. Rosborg himself is a past recipient of the Illinois Master Teacher Award, the Illinois State Board of Education "Those Who Excel" Award, the Illinois State Board of Education "Break the Mold" Award, the Boy Scouts of America's Russell C. Hill Award for outstanding contribution to character education, and the 2004 Illinois Superintendent of the Year Award. He also collaborated in writing a textbook with Dr. Max McGee and Mr. Jim Burgett entitled, "What Every Superintendent and Principal Needs to Know". In addition, Rosborg has published articles on dealing with children with AIDS in the classroom and the need to adjust the 2002 No Child Left Behind Act for successful implementation.



Dr. Rosborg likes working with children. Every year at Halloween his wife, Nancy, made a different costume so he could go to the student body to review safety rules. He also took the opportunity to meet with children, read to them, and listen to what they had to say. Dr. Rosborg's service extends beyond District #118 boundaries. He has served as an adjunct college professor to both St. Louis University and Lindenwood University. He is the Illinois Association of School Administrators' representative on the State Test Task Force concerning the No Child Left Behind Act and served on the Illinois Association of School Administrators Board of Directors. He believes strongly that some of the best people in the world are educators and that political leaders should grant educators the autonomy to do the right things for boys and girls. No decision was made in District #118 without asking the question, "What is best for kids?" Rosborg also strongly believes that the bottom line of success in any District is the teachers in the classroom. The main goal of successful administrators is to provide an environment for teachers to be able to maximize the educational achievement of the students.



Dr. Rosborg graduated from Hoopeston High School in Hoopeston, Illinois, in 1968. Rosborg received his undergraduate degree from Southern Illinois University at Carbondale, a master's degree from Southern Illinois University at Edwardsville, and completed his Doctorate work at Southern Illinois University at Edwardsville in 1994. Rosborg taught math, history, and served as a counselor and coach for 13 years at Belle Valley District #119, and served 20 years as an administrator in Belleville District #118. Rosborg has been married for 30 years to his wife, Nancy. Together they have three children Mike (28), married to Wendy, Kyle (25) and Carol (23).
Books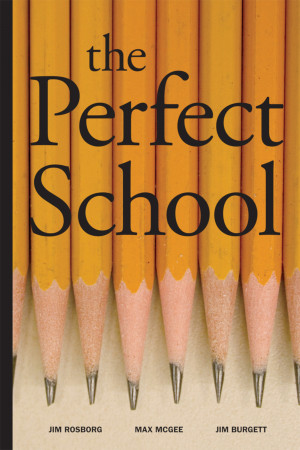 The Perfect School
by

Jim Burgett

,

Jim Rosborg

, &

Max McGee
Everybody wants a perfect school, but what does that really mean? That's what three top award-winning educational leaders from Illinois asked each other, then dug into their areas of strength to answer. The result is their second book, The Perfect School, a no-nonsense look at perfect teachers, perfect staff, perfect parents, and perfect principals, plus a dozen chapters more!
Jim Rosborg's tag cloud